Chosen from the finest growing regions around the world by our team of specialists, GLOBO CAFÉ brings you a global coffee experience that can be enjoyed hot, cold or as a frappe.
1
GLOBO CAFÉ 1.8 gr
Easy to prepare, you can enjoy your favourite flavour of GLOBO CAFÉ at office, home or car in the new packaging of 1.8 gr.
Net weight: 1,8 gr
Display: 100 pcs
Display/ Bax: 6
Bax/ Pallet: 130
Net weight/ pallet: 140.4kg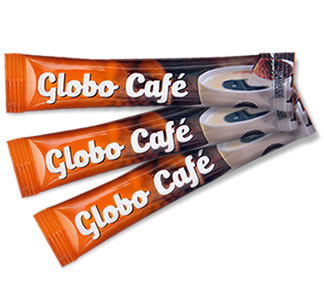 ---
2
GLOBO CAFÉ 50 gr
Perfect for refill
Net weight: 50 gr
Pouches/bax: 36 pcs
Bax/Pallet: 135 pcs
Net weight/ pallet: 243 kg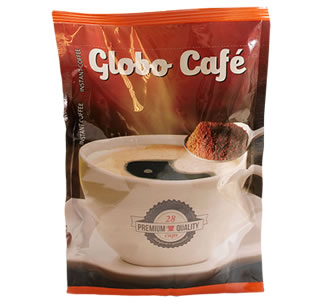 ---
3
GLOBO CAFÉ 100 gr/ 200 gr
Environmentally friendly packaging sustaining a long shelf life and product freshness.
Net weight:
100 gr
200 gr
Net weight/ pallet:
176.80 kg
259.20 kg